WhatsApp and its disagreements… Whether it's because we can't answer at the time or even because we're angry with the other person, we miss being able to read messages without leaving a trace. Namely, that the blue tick does not appear and there can be no record that we have read it. However, it has a solution.
And no, it does not only consist of deactivating the blue check, since there are several ways to do it both on Android phones and iPhones. So, put on your ninja suit because in this post we will tell you about several of these methods.
Notification panel, the old reliable (although not always effective)
Regardless of whether you have Android or iOS, both systems have the view of WhatsApp messages in the notification panel in common. For that obviously you must have WhatsApp notifications active from the device settings. We spend a little long this section because in the end it is more than likely that you already know it very well and, therefore, you know that its main disadvantage is that sometimes it cuts the content of the message if this is too long.
The other disadvantage of this view system is that if you delete the notification you won't be able to get it back. At least on an iPhone, since from Android 11 there is the possibility of accessing the notification history and thus recovering WhatsApp notifications.
With the Android widget or the iPhone 3D Touch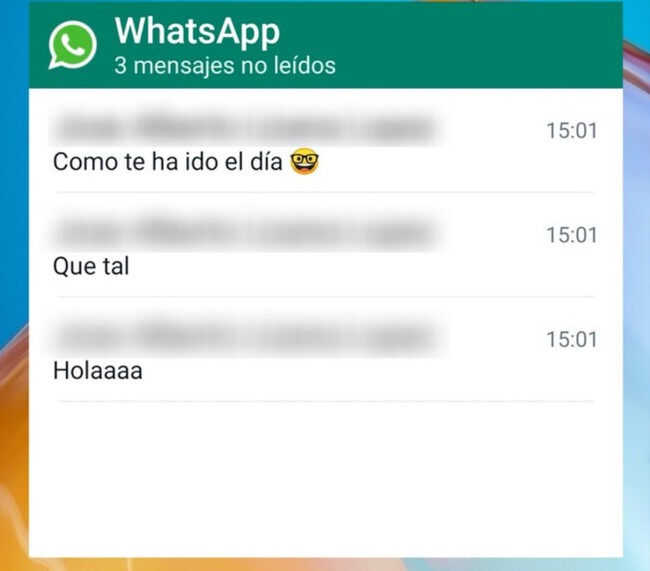 WhatsApp widget on Android
Different methods, but effective and each one in its operating system. If you have a mobile with the Google operating system, you can use the native WhatsApp widget to read the messages you receive without being seen. It's easy to set up and you'll have each and every message you receive at a glance. Yes indeed, they appear disordered depending on when you received them, it can be somewhat chaotic if you receive messages from another chat in between.
WhatsApp preview on iOS
The WhatsApp widget on iOS only lets you see recent contacts, so the previous case is not comparable. On the iPhone you can take advantage of 3D Touch gestures. These are basically a way of long press which, being in the main panel of the app and holding down on a chat, will allow you to see the latest messages received. It's not as comprehensive as the Android widget, as it only shows you the latest, but it can be useful from time to time.
Ask the mobile assistant (Google Assistant and Siri)
Surely we are still far from the intelligent assistant of our mobile to prepare food for us or clean the house, but they still retain basic functions such as read recent whatsapp messages and other applications. The way to do it could not be more intuitive.
Whether with Google Assistant on Android or Siri on iOS, you just have to summon the assistant and say "Read my WhatsApp messages". If this is your first time, you may need to give them access to the app. Once that process is done, the assistant will read you the most recent messages and the other person will not see the blue check. Of course, they must be recent messages.
Turn off the Internet and freely enter the chat
Either by putting the airplane mode or directly deactivating the WiFi and mobile data, you can enter a WhatsApp chat normally and check each and every one of your messages. Without access to the Internet, the mobile will not be able to verify if the messages have been read. You can even prepare your response to messages with the peace of mind that they will not be sent.
But… there is a big drawback: when you have a connection again, everything will go to hell. The chats will appear as read at the moment you recover the connection and if you had written a message you will see that the clock icon disappears and that it already appears as sent. Therefore, this is a temporarily valid solutionsince the blue double check will appear even if you close the app before reconnecting.