We live in turbulent days when it comes to cybersecurity, with Pegasus as a backdrop. And it is that this spyware that has even affected Pedro Sánchez has raised the suspicions of many ordinary users who they fear that their mobile could be hacked and thereby extract your data. And it is precisely in this wave of nervousness that those known as Faraday cages.
But, what is this about Faraday cages or covers? Do they really serve to prevent your mobile data from being stolen? And if so, how do they get it? in this post we solve these and other doubts regarding this type of gadgets that, by the way, are not new at the moment.
What are Faraday cages
As you have probably already suspected, this type of element owes its name to Michael Faraday, the English scientist who during the 19th century dedicated much of his activity to researching the electromagnetism and electrochemistry. Precisely the Faraday Law and the whole matter of magnetic fields is what gives meaning to Faraday cages.
These cages are box-shaped elements that create zero electromagnetic field, thus protecting its interior from any static electric field. In other words, waves such as those from WiFi or mobile coverage signals do not penetrate inside, nor is any radiation emitted to the outside (or very residually, depending on the construction) from inside.
Without going into too technical details and which do not concern us in this matter, say that this type of box achieves this effect thanks to its construction with materials that, fundamentally, are conductive metals with properties consistent with achieving electrostatic balance.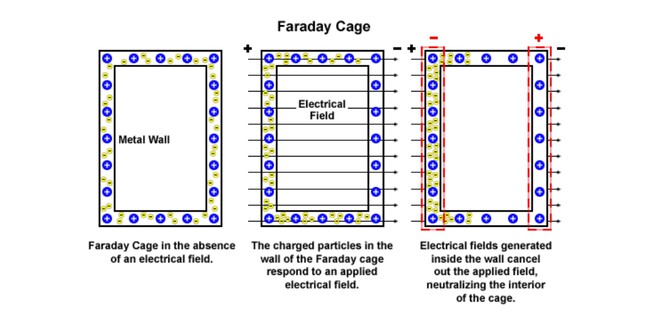 Source: Askix
Faraday boxes are not something extremely rare or expensive. Even a microwave inside offers this effect.
In this medium we focus on mobile technology, but the truth is that Faraday boxes are not built for smartphones, although they do not have a strange purpose and are within the reach of experts in the field. It is not necessary to go very far to find an everyday example, see a microwave normal and ordinary like the one we have in our kitchens, which contains a Faraday box inside.
taking up the utility of Faraday cages in mobiles, it is true that if you insert a mobile in one of these, it will stop receiving wireless signals of any kind. You won't be able to issue them either, so in the end will be completely incommunicado and, therefore, it will be impossible for someone to hack it.
The real usefulness of these covers and cases for the mobile phone is questioned by the design of some of them.
Just take a look at Amazon to discover that "Faraday cell phone cases" are for sale. Looking at your reviews and understanding the concept of many of them, we must say that might not actually offer this feature. Or at least not completely. Those that in their construction do not completely cover the device could reduce a magnetic field to a certain extent and avoid situations such as, for example, that a credit card is demagnetized by carrying it near the mobile. However, they do not seem to produce the expected effect of completely preventing the reception and emission of all communication signals.
Beyond the material and/or economic cost that having a real Faraday cage may entail, which is not so expensive today, the truth is that it would be impractical to encapsulate a mobile in one of these boxes. Would you be protecting it from possible attacks? Yes, but the toll to pay for it is too great because it would lose a large part of its functions by not being able to establish communication. And if you take him out of the cage, you will expose him to those possible attacks again. At most, it can be useful to avoid distractions at specific times, but nothing you can't achieve with an Airplane Mode or turning it off.
Don't want to be hacked? Turn off the mobile and do not turn it on again
It sounds so obvious that it is even stupid. But it is totally true. Google, Apple and Microsoft are the main developers of operating systems that we use in our day to day and they are very dedicated to protecting us against cyber attacks. However pessimistic it may be, We will never be 100% sure.
As careful as we are, there is always some method by which they can extract our data from the phone. And if there isn't, they will invent it, however complex it may seem. However, you have to use common sense: are we really that important. The vast majority of citizens have our privacy that we do not want to reveal to troche and mochebut that would not arouse such interest to move a team of experts to hack us.
In our condition of "anonymous", we have to try avoid other types of attacks relating to phishing (identity theft), since most of them are after something that may be of interest: our money. Similarly, the fake news of all kinds are also a problem of our time that we must face as users. If, despite everything, you suspect that a malicious entity wants to track your every move, you know, turn off your phone and go into a cave several meters underground to avoid any signal. That is the best "Faraday cage".